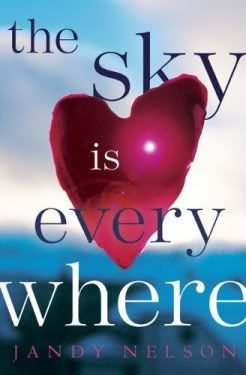 Wher
e
I
got it:
ARC from Penguin Group
Rating:
5 stars
Cover Rating:
4 stars (I really like it, but it's hard to tell that it is YA)
Genre:
Young Adult
Publication Date:
March 9, 2010
Publisher:
Dial
Page Count:
283 p.
When Lennie's sister dies she doesn't know what to do. Their mother had left early on because of "the restless gene"; she is wandering somewhere in the world. Lennie and Bailey were stuck living with their grandmother and uncle, not that they minded. But now, with Bailey dead, the whole house is a heavy atmosphere of mourning and Lennie feels like no one can understand. Until Toby, Bailey's boyfriend, comes to their house one day. Toby and Lennie, feel that they alone can share the grief of having been so close to and having loved Bailey so much. Then when Joe, a new kid in town, comes into the picture, he might be just the thing to help Lennie out of her slump; only she can put the pieces of her life back together.
This was such an amazing and powerful novel. Hoorah for a debut. Jandy Nelson crafts the perfect balance of love and loss. A few things did bother me, one was in the second sentence Lennie says that all she can think about now is sex, yet that doesn't really seem to be the case. I realize that maybe she thinks about it more than she used to but I thought it was going to be all about sex. I am very glad this was not the case, I don't think I would have liked Lennie as much if she had been a sex-crazed twit. The other thing was, at one point, Lennie and her friend Sarah met at this secluded swimming hole and hung out in the nude. I personally have never hung out in the nude with my friends. Do people actually do this? I don't think it is necessarily wrong, but I had just never heard of any one having done that. I really loved the relationships in this novel. You could feel the desire and passion dripping on every page interspersed with all the sorrow-filled longing for Bailey to return. I enjoyed all the characters and their quirks so much. It made each person that much more real to have them with odd little habits and whatnot. I loved Joe, he was such an amazing character. I loved his charisma and his charm. Joe did not seem to let the little things get to him. This was such an honest account of emotions and that is what made this novel so stirring. I had to keep reading because it felt so good to read every page feeling my heart swell and ache with Lennie's many trials. I also absolutely loved Lennie's poems. She would write them on whatever surface she could find and then just abandoned them for someone else to come across. So I recommend this to all of you my readers that crave realistic fiction. This is not a book to be missed. I will keep my eye out for Jandy's sophomore work.
First Line:
"Gram is worried about me."
Favorite Line:
"My sister dies over and over again, all day long."