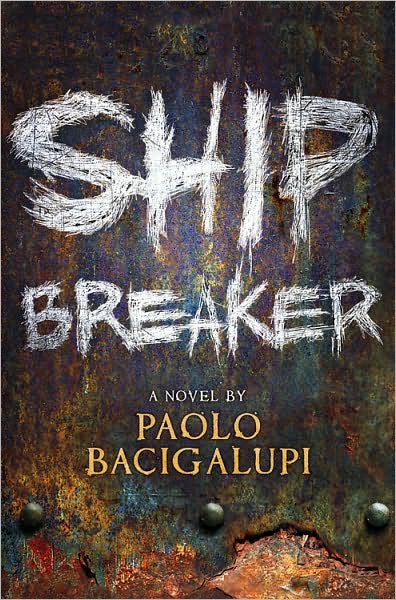 Wher
e
I
got it:
ARC from Little, Brown and Co.
Rating:
4.5 stars
Cover Rating:
3.5 stars (I really love the cover and how it looks like the side of an old ship, but I would not have picked this up because it looks like a boy book.)
Genre:
Young Adult
Publication Date:
May 1, 2010
Publisher:
Little, Brown Books for Young Readers
Page Count:
323 p.
In America's Gulf Coast, ship breakers scavenge useful materials from long dead tankers. Nailer is one such ship breaker who works light crew, scavenging in the smaller spaces for copper wiring and such. When him and his friend Pima spot a Clipper ship ready to be scavenged that think they've gotten lucky. Until Nailer finds a girl inside, trapped, but still alive. He has to make a choice between scavenging her and her ship or hoping she can help him into a better life.
I did not expect to like this book at all. It's set in a sorta futuristic world, but not space-y futuristic more dystopian-y. When I read that Paolo Bacigalupi wrote Sci-fi I was really thinking that this would be a boring read. Boy was I wrong though. I loved this book. The setting was amazing and unique. I loved the loyalties portrayed and the survivalist instinct set into the characters. The characters all seemed so real and I just loved it. Paolo Bacigalupi won me over within the first few pages. No one was extraordinary (other than the half-men[part dog, tiger and human]). This novel certainly had it's slow parts but it had a lot of moments where I just didn't want to stop reading. This book will greatly appeal to boys and possibly even girls, who are looking for a gritty adventure story that takes them through a decrepit southern U.S. This was a very exciting book and I recommend it to anyone who loves reading and adventure. There's a hint of romance but nothing to turn you away from the high-action of the novel. Nailer was such an excellent realistic character who had me holding my breath and rooting for him all the way. This book CAN NOT be missed. A library is not complete without
this novel
, so buy it yourself or ask your YA librarian to add it to the collection.
First Line:
"Nailer clambered through a service duct, tugging at copper wire and yanking it free."
Favorite Line:
"If he'd been down in there, he would have been nothing but a fine spray."